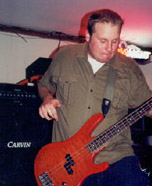 Kit Nowlin
bass
Grew up in: Edmond / Guthrie, OK
Influences: Cream, Bobby Darin, Led Zeppelin
The clown prince of the four-string, Notorious K.I.T. first picked up a bass when two of his friends started a band in high school in the mid-'90s. That group, Poindexter, led to Kit playing with Jesus Truck Driver, where he first jammed with Jordan Doolen. In 1997 in the basement of a multi-purpose room at OSU, the two hatched the plan that would eventually become 12 Pearls. Though he's often seen performing mind-boggling feats of prestidigitation on the fretboard of his bass, there is a softer side to Kit. After all, one of his favorite songs is "Somewhere Beyond the Sea" by Bobby Darin.
Fun Kit fact: Kit is the only married member of 12
Pearls (sorry, girls!).

e-mail: kit@12pearls.net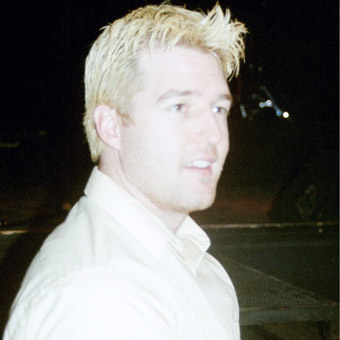 Brandon Jackson
vocals, guitars
Grew up in: Edmond, OK
Influences: Pearl Jam, Better than Ezra, Dave
Matthews, Foo Fighters, Sugarcult
Brandon brings high-kick energy and stage-trained performance skills to the 12p table, and is a jack-of-all-trades in the live arena: sometimes he sings lead, sometimes he sings harmony, sometimes he plays lead and sometimes he plays rhythm. Sometimes he even plays the kazoo and does handclaps. (OK, he doesn't go that far). B is also pretty much agreed to be "the cute one."
Fun Brandon fact: Brandon walked on two years
at wide receiver for the Oklahoma State University
football team before deciding to concentrate totally on music.
e-mail: brandon@12pearls.net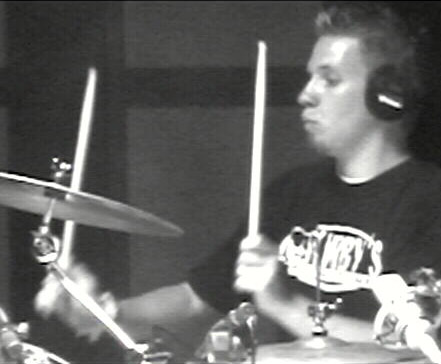 Matt Crabtree
drums
Grew up in: Edmond, OK
Influences: QOTSA, RHCP, RFTC, TR, JD, the Fighters of
Foo
Matt got into the 12 Pearls game later than the other two, but made up for it quick with his onstage antics (playing his leopard-fur drums standing up in bug-eyed wonder) and great sense of humor. The timekeeper played the skins for several bands in Edmond and Stillwater before joining 12 Pearls in March 2002. The youngest member of the band by a couple of years, Matt is also the only one still in school, finishing up a bachelor's in marketing at (where else?) Oklahoma State.
Fun Matt fact: A secret admirer of Matt's was the
inspiration for the song "Mexican Boyfriend," off the
new Listen EP. Also, he can put both feet behind his
head.
e-mail: matt@12pearls.net